CORONA VIRUS INFORMATION


Grand Master issues Directive 11 waiving 6 month requirements for advancement: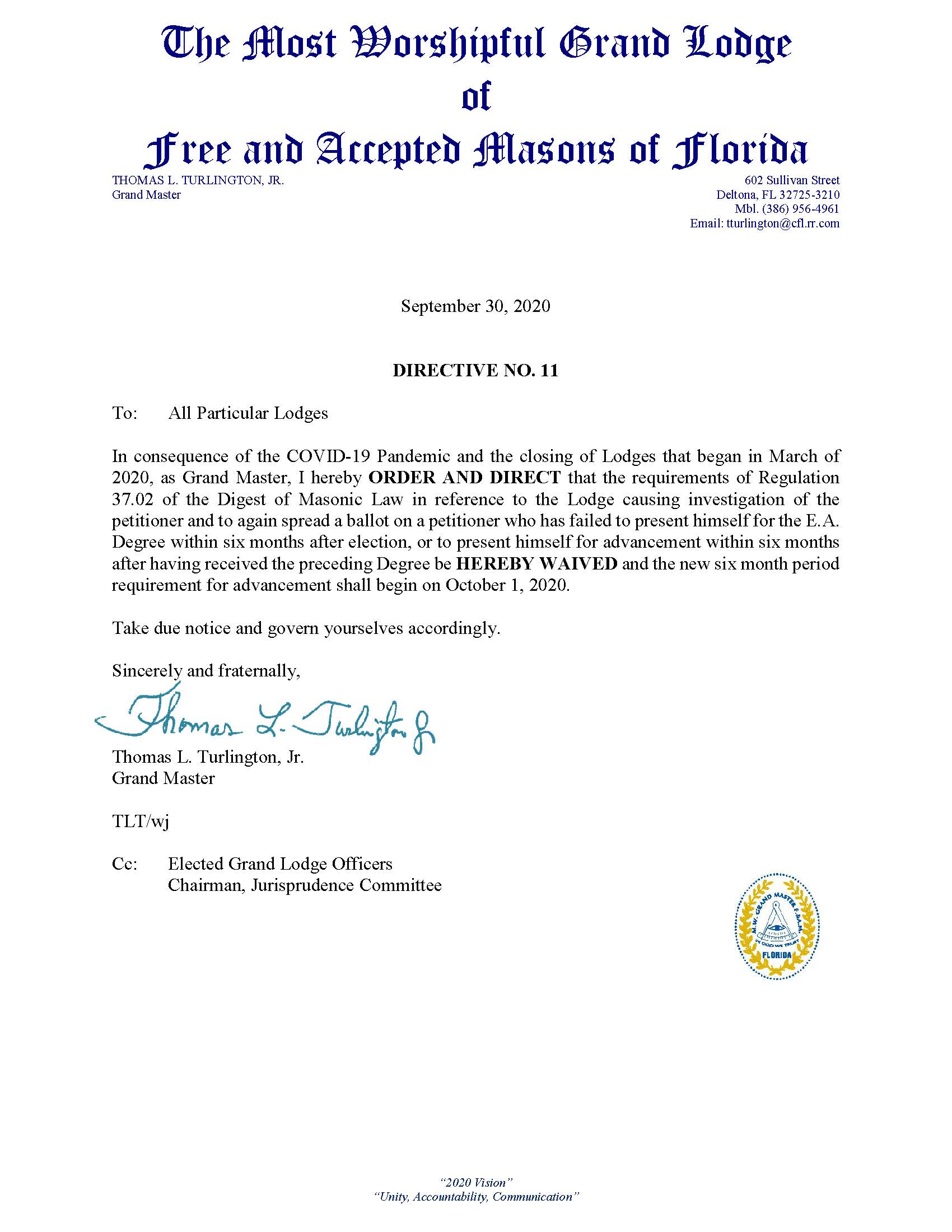 Grand Master issues Direcitve 13 regarding taking temperature as follows: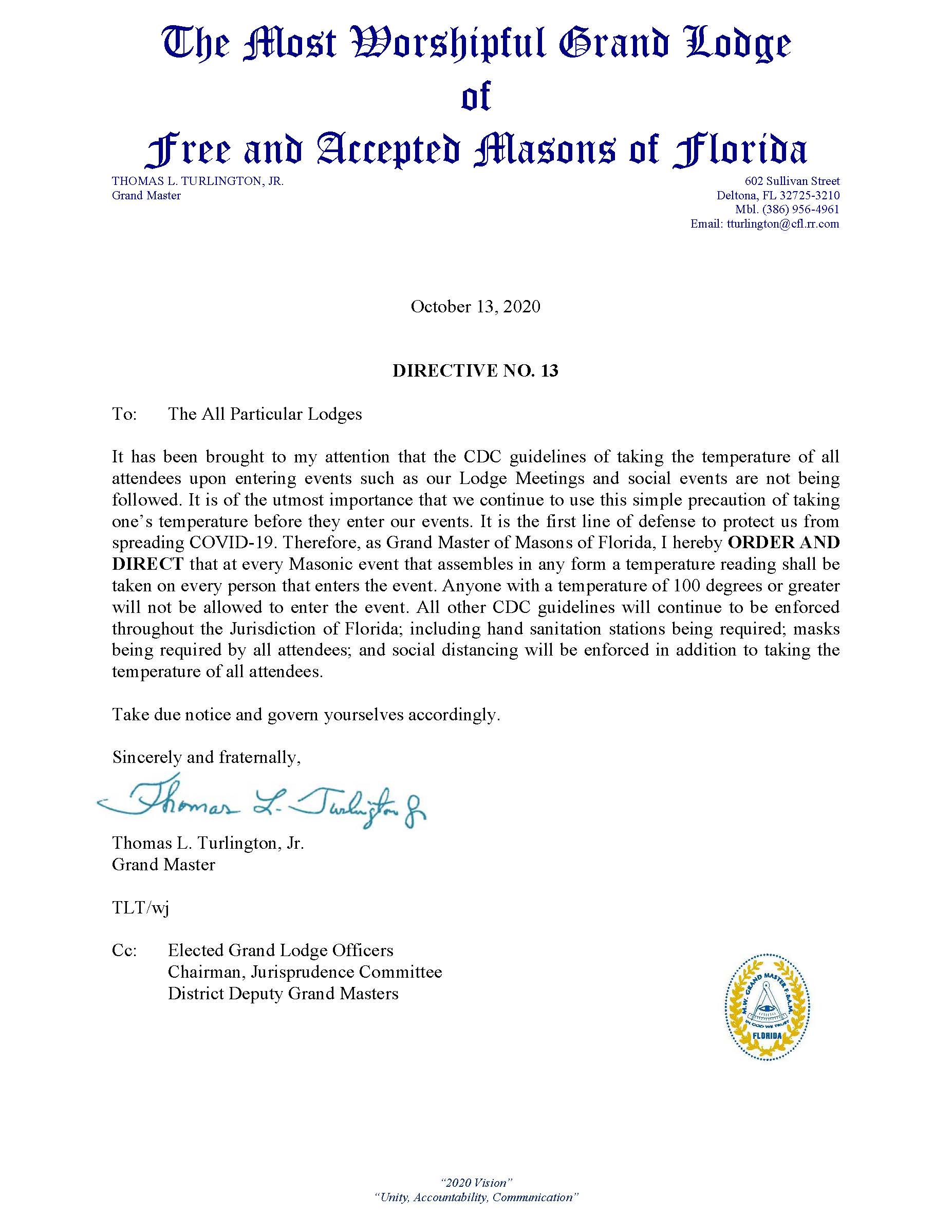 ANNOUNCEMENTS
CONGRATULATIONS to our newly Elected Officers for 2021!:
| | |
| --- | --- |
| W∴ Paul Bannister | Worshipful Master |
| Ron Espanola | Sr. Warden |
| W∴ Justin Smith | Jr. Warden |
| Ignacio Galarza | Treasurer |
| W∴ Jack Lloyd | Secretary |
| John Scott | Sr. Deacon |
| Giancarlo Mafiol | Jr. Warden |
| W∴ Chris Bowdish | Sr. Steward |
| W∴ John Woods | Jr. Steward |
| R∴W∴ Keith Hartless | Chaplain |
| W∴ D.D. Clark | Marshall |
| W∴ Willie Galbraith | Tyler |

Brethren, remember to sign up for Circumscribe, the new web based membership tool on the Grand Lodge of Florida website. This site allows you to pay your dues, edit your profile, and access your Masonic record online. Instructions for how to register for your Circumscribe account can be found here.

FUNDRAISING EVENTS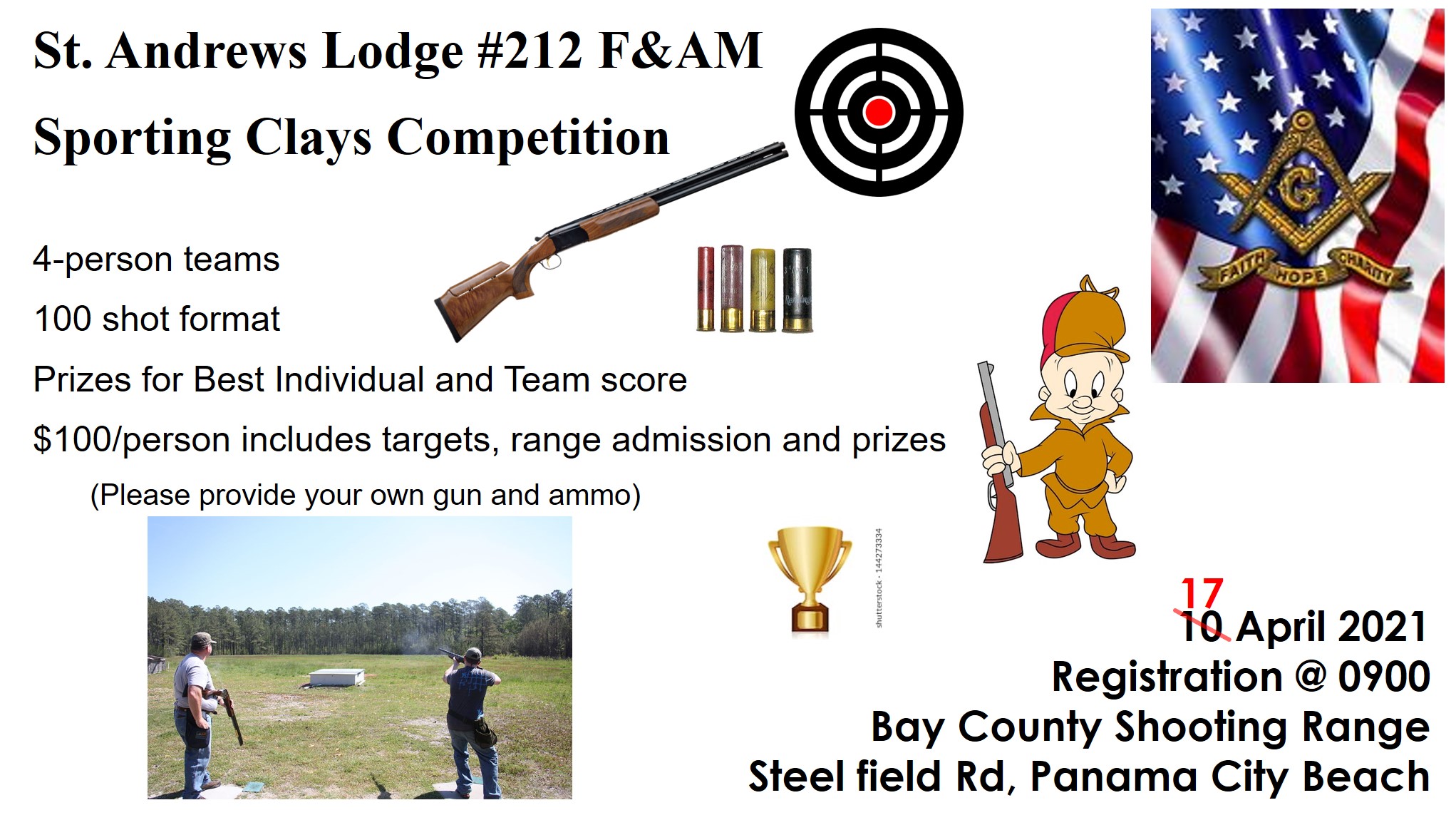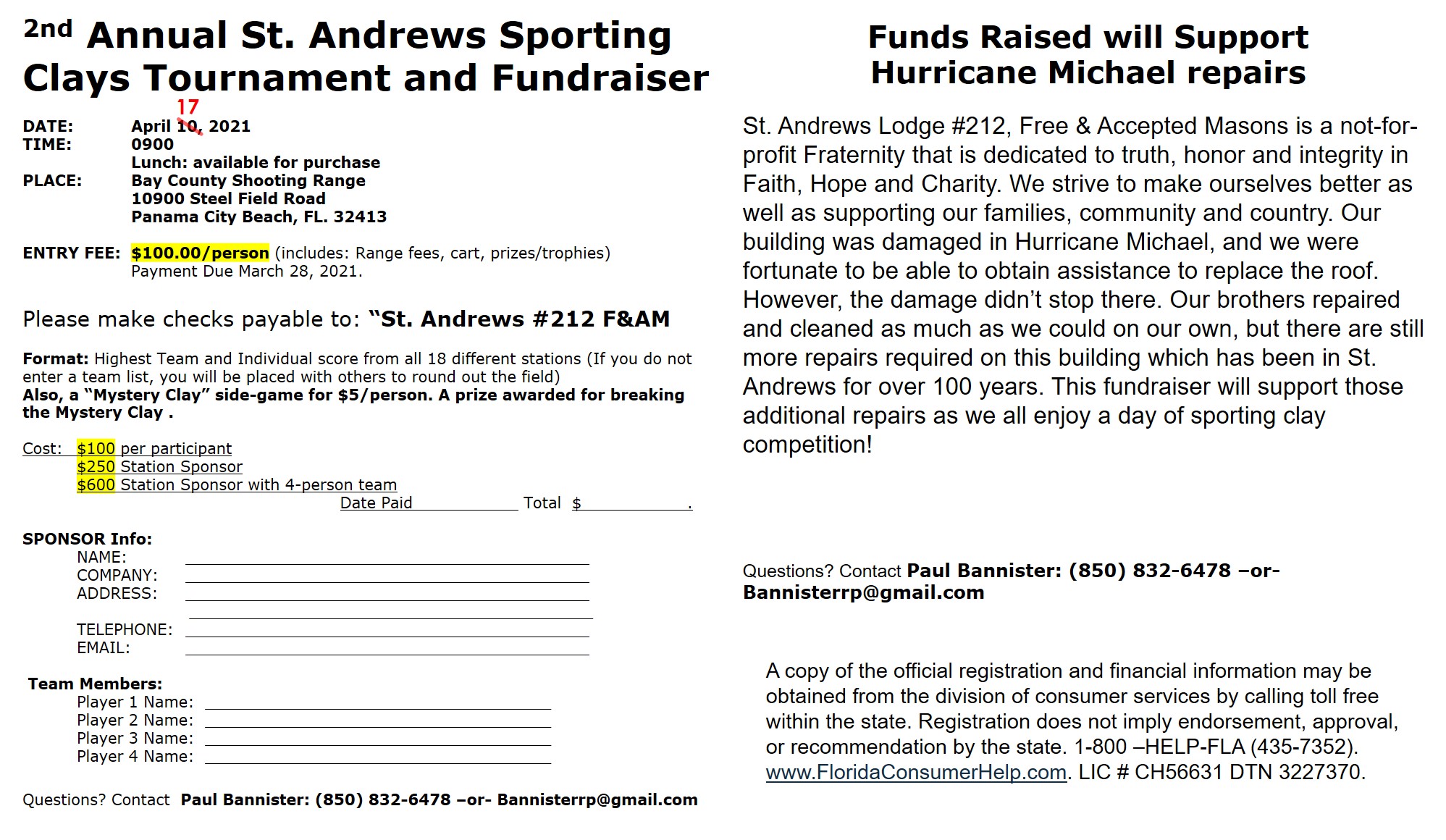 SPORTING CLAYS TOURNAMENT ENTRY FORM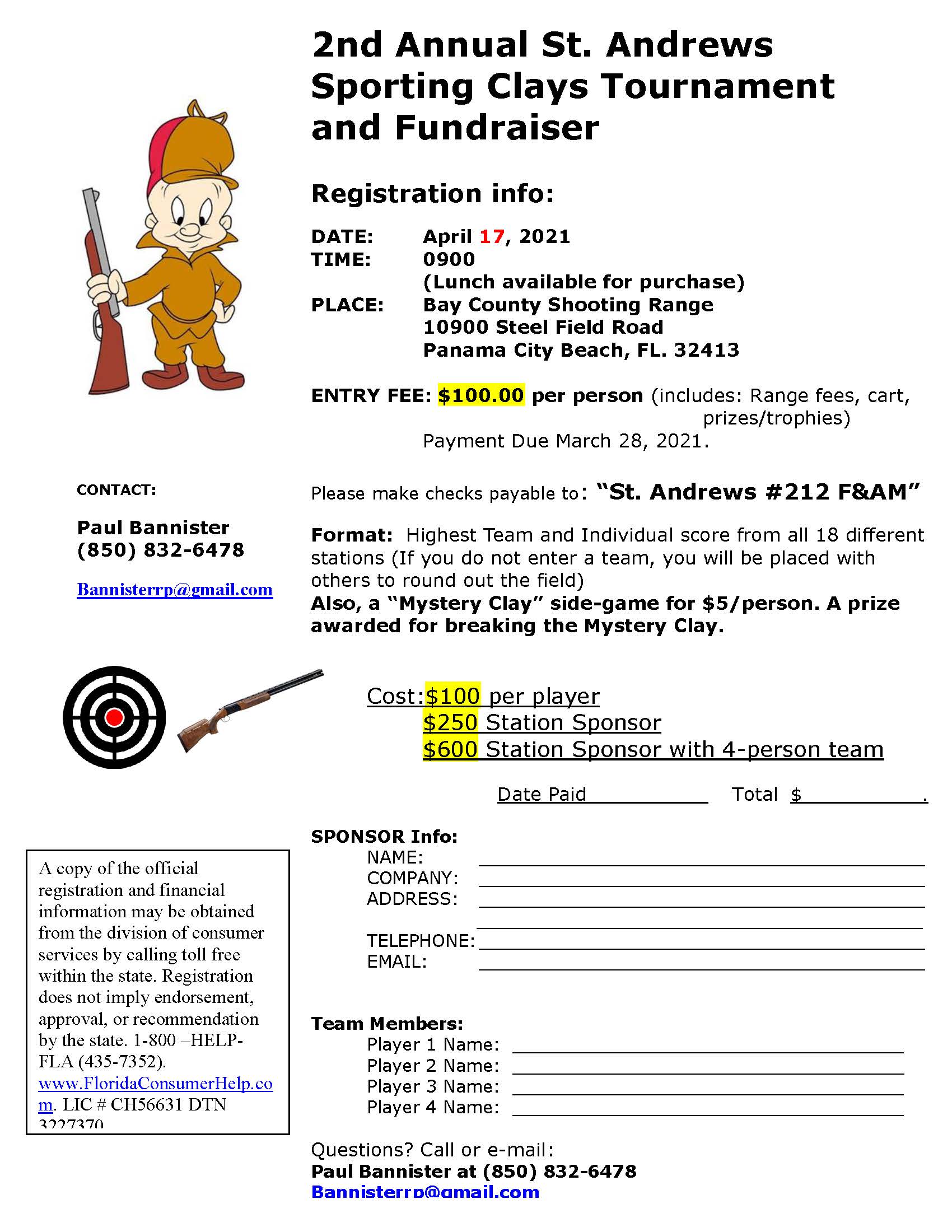 COMMUNICATIONS


Stated Communications are 1st and 3rd Thursdays @ 7:00PM (Next One is January 21st) . Dinner will be served at 6:00 PM. Brethren, the W∴M∴ requests your attendance, to support the Fraternity, Your Officers, Your Lodge, Your Brothers and Masonry in general.


The Lodge holds practice every Tuesday evening at 6:00 PM to prepare for upcoming Degrees or to help you with other work. Please joins us, we will be glad to help you with any portion of the work and help to improve your proficiency.


Zone School of Instruction - Open Books is held the 1st Wednesday of every month (Next One is February 3rd) at the Panama City Scottish Rite Center, 1332 Fortune Ave. Panama City, FL 32401.




UPCOMING WORK



If anyone has a request or a notification for other Lodges in the area, or a request to place it on our "TRESTLEBOARD" please click on the Envelope below and we will be glad to post it.
---
This Trestleboard is for the membership of St Andrews Lodge No. 212, and is maintained by R∴H∴ Todd Bowden.
---