Brothers, a very nice Masonic ring was found in the vicinity of Beck Ave. and 11th St. during the Mardi Gras Parade on Saturday, Feb. 19th. This ring has been turned into the Lodge. If you or someone you know has lost a Masonic ring, please email us using the link below to identify and claim it.




CORONA VIRUS INFORMATION



The Grand Master has now issued Directive No. 8 providing additional guidance in dealing with COVID-19: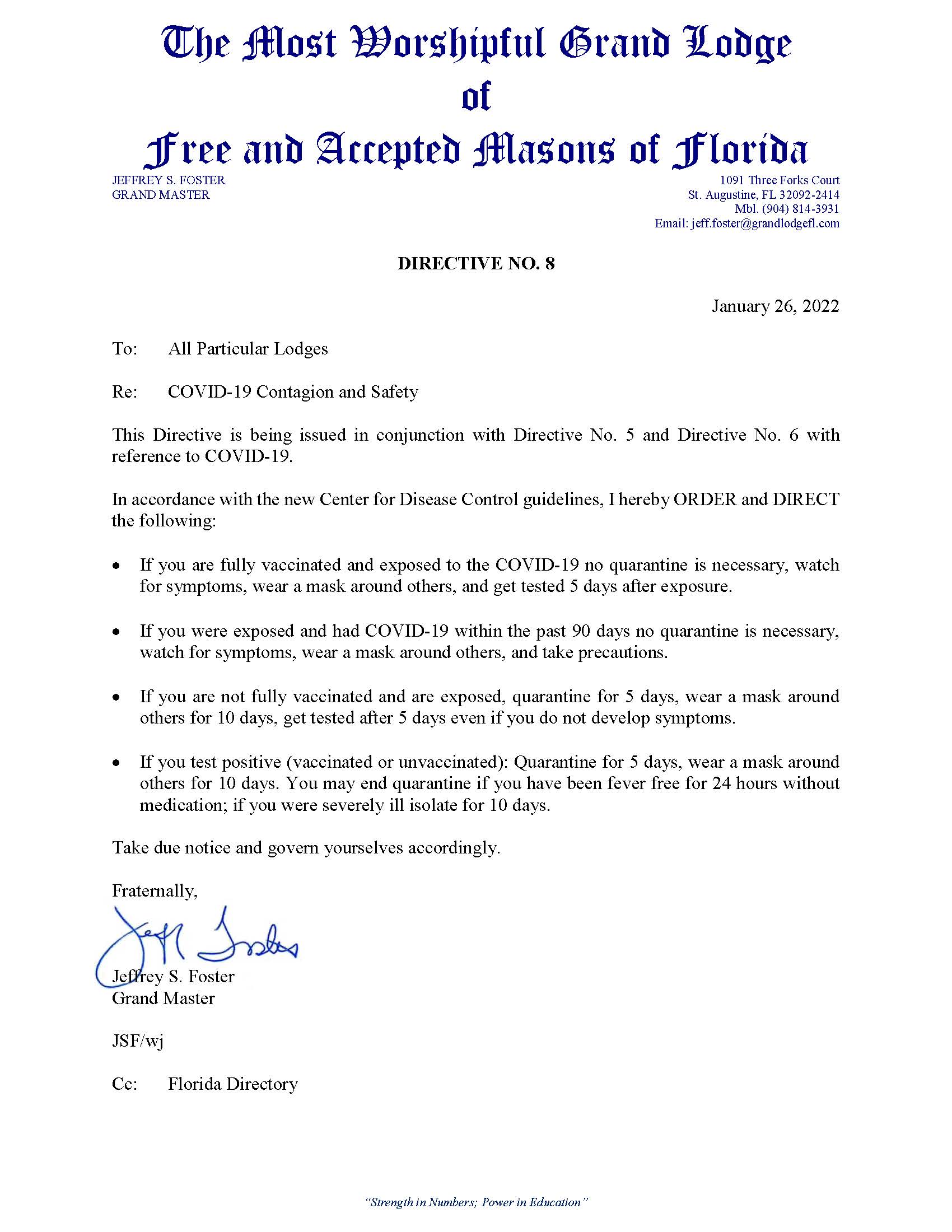 The Grand Master's Directives 5 & 6 providing direction on Lodge Communications during the latest COVID surge are still in force: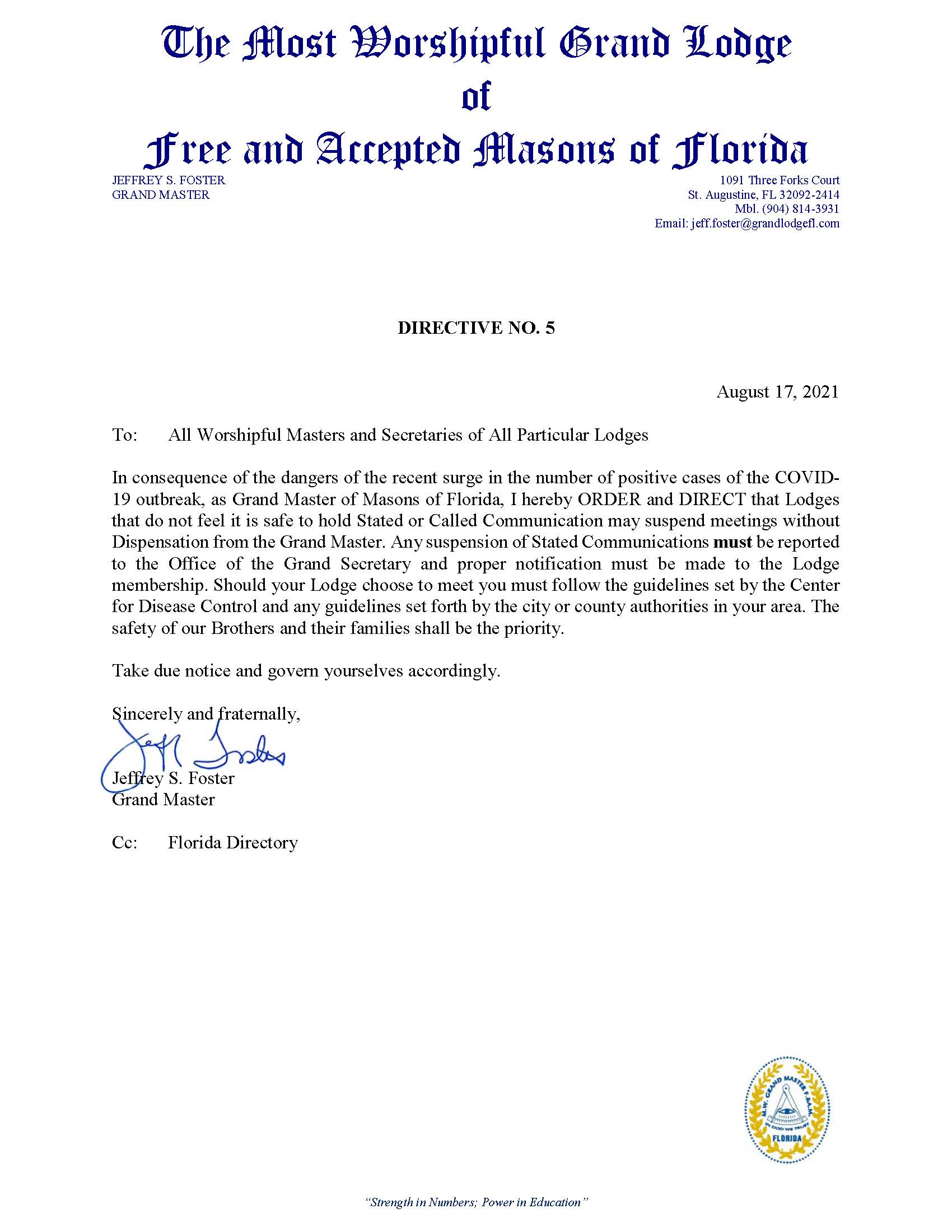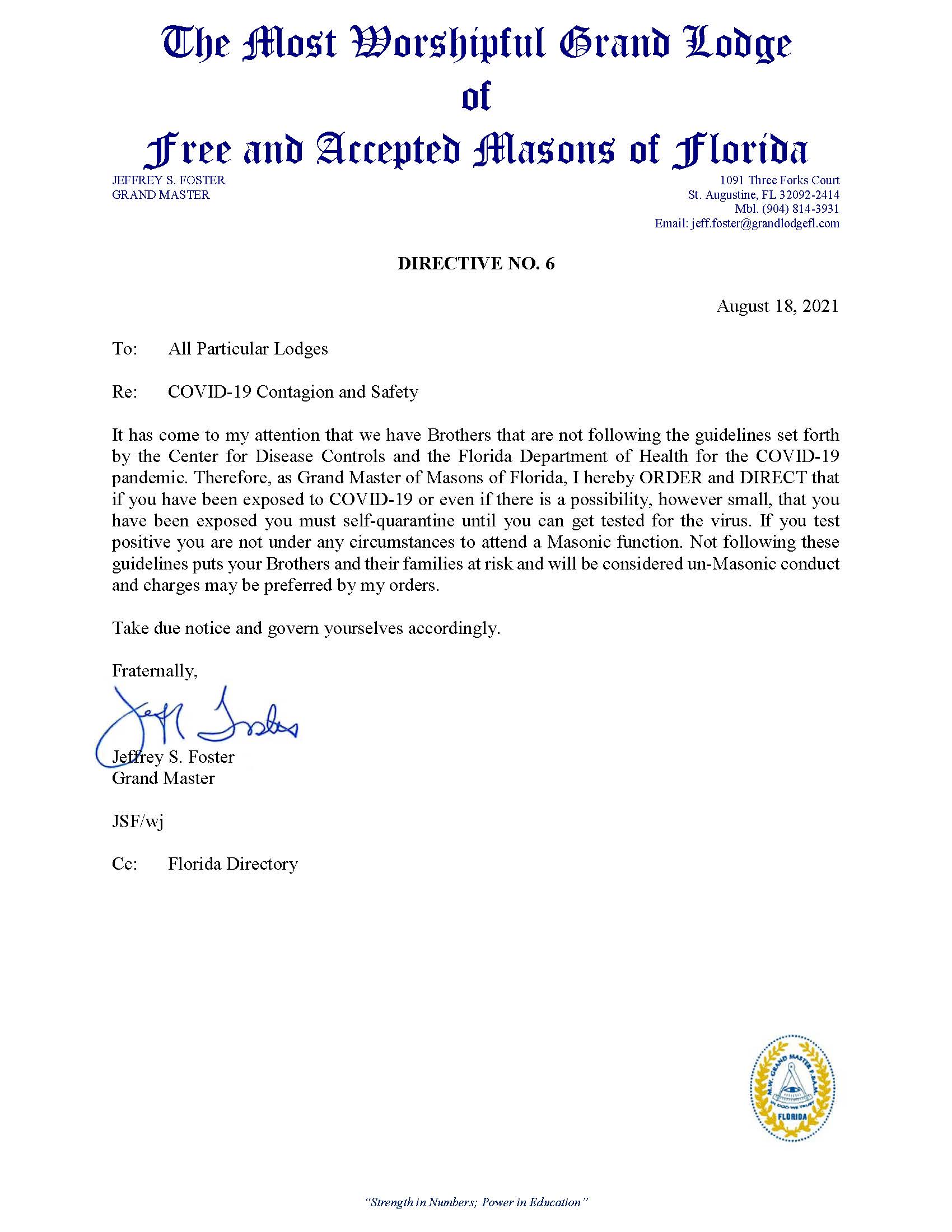 Brothers are reminded that if you feel sick, have tested positive for COVID, or suspect that you may have been exposed to the virus - please stay home for the health and safety of yourself and your Brothers.







ANNOUNCEMENTS


The Most Worshipful Grand Lodge of Free and Accepted Masons of the State of Florida will hold its 193rd Annual Grand Communication tentatively on Monday, May 30th thru Wednesday, June 1st, 2022. It will be held at the Rosen Plaza Hotel, located at 9700 International Drive, Orlando, Florida, 32819.


Due to unforeseen circumstances, the Second Annual St. Andrews Lodge Sporting Clays Contest has been delayed from May 21, 2022 to a time later this year.


Brethren, all Masons of the 5th Masonic District are encouraged to show your Masonic Pride on the last Saturday of every month. Let others know you are a Mason by wearing a Masonic shirt, ball cap, etc. Be recognized and help generate interest in our great Fraternity.




FUNDRAISING EVENTS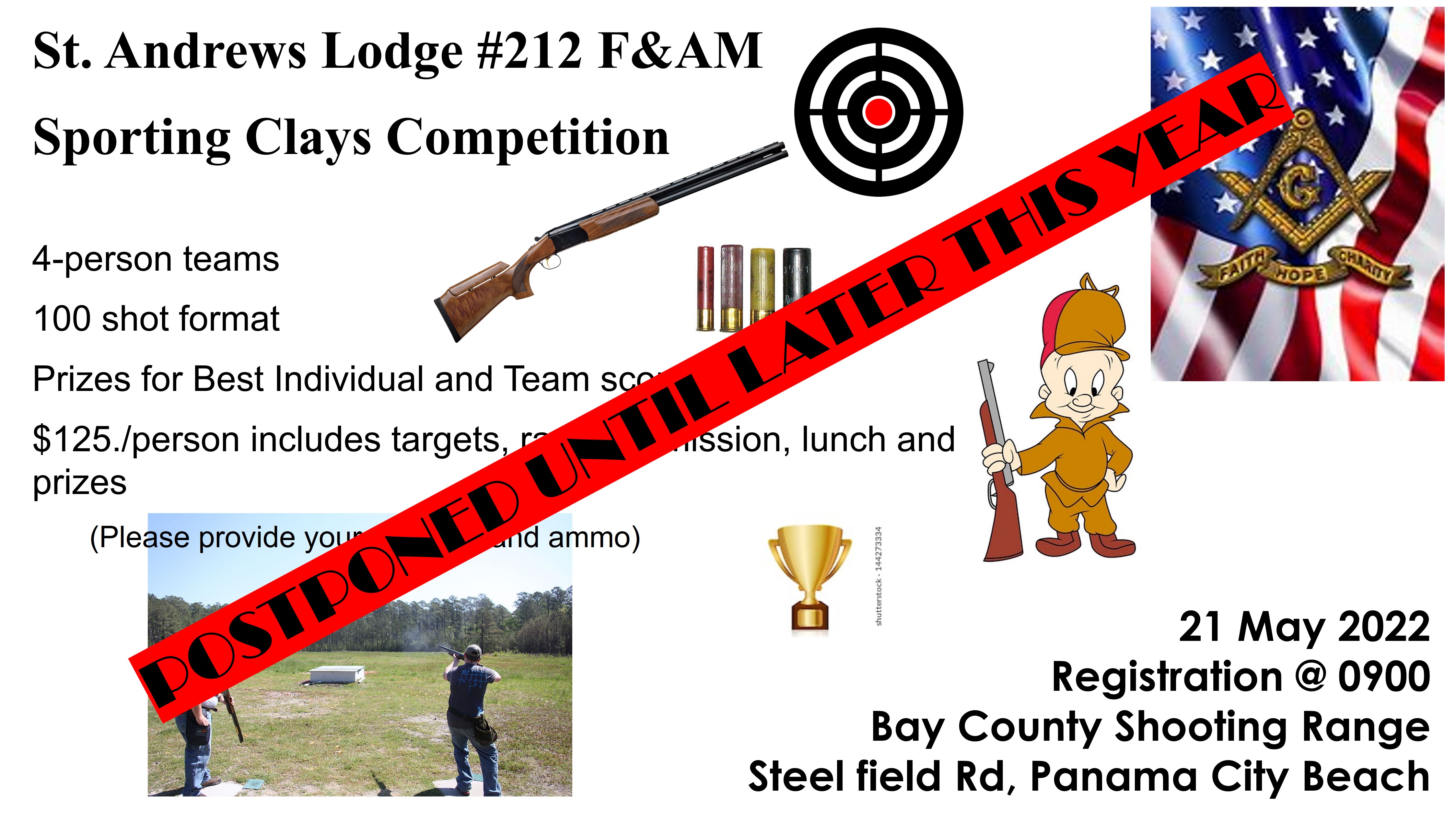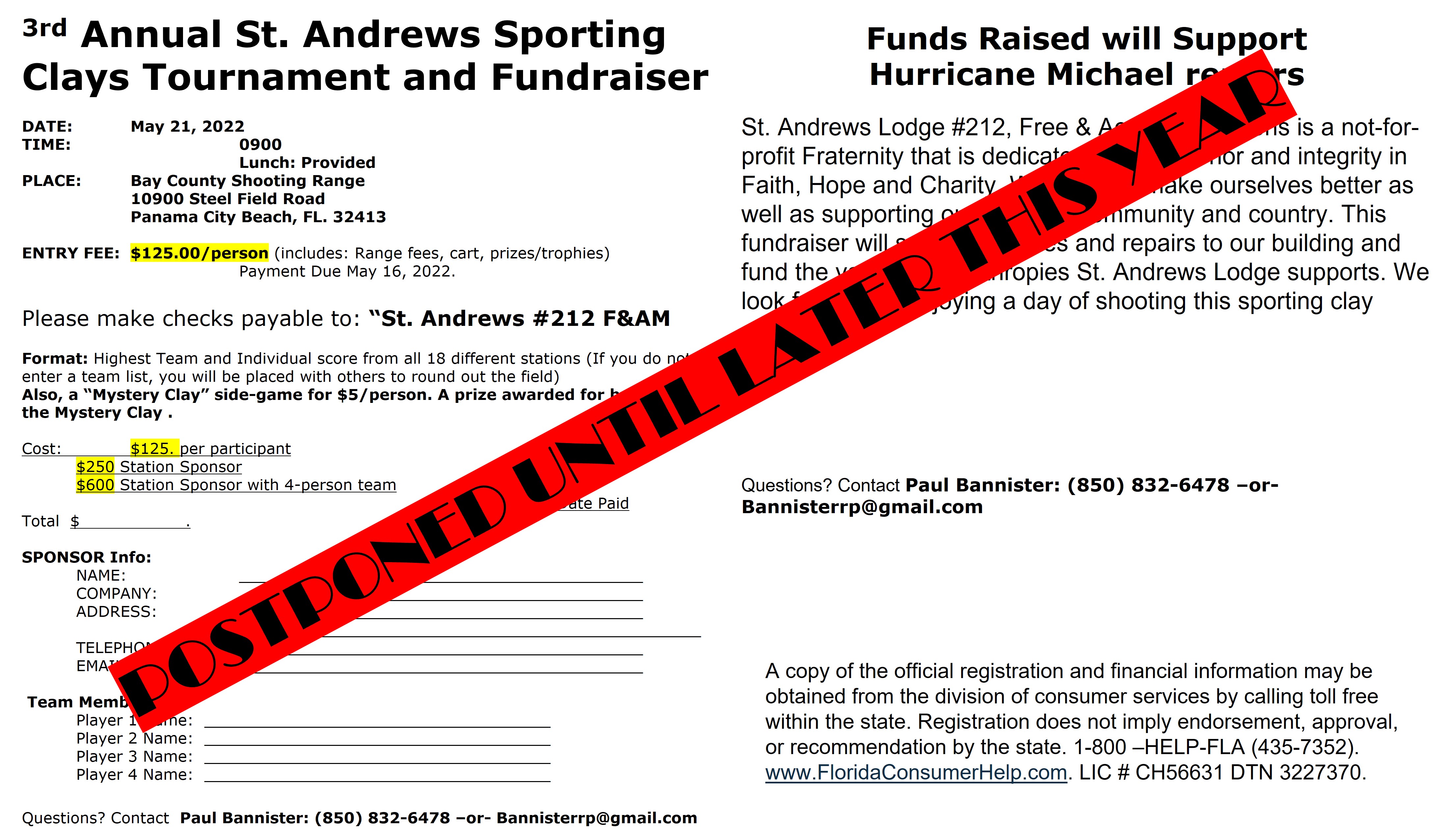 SPORTING CLAYS TOURNAMENT ENTRY FORM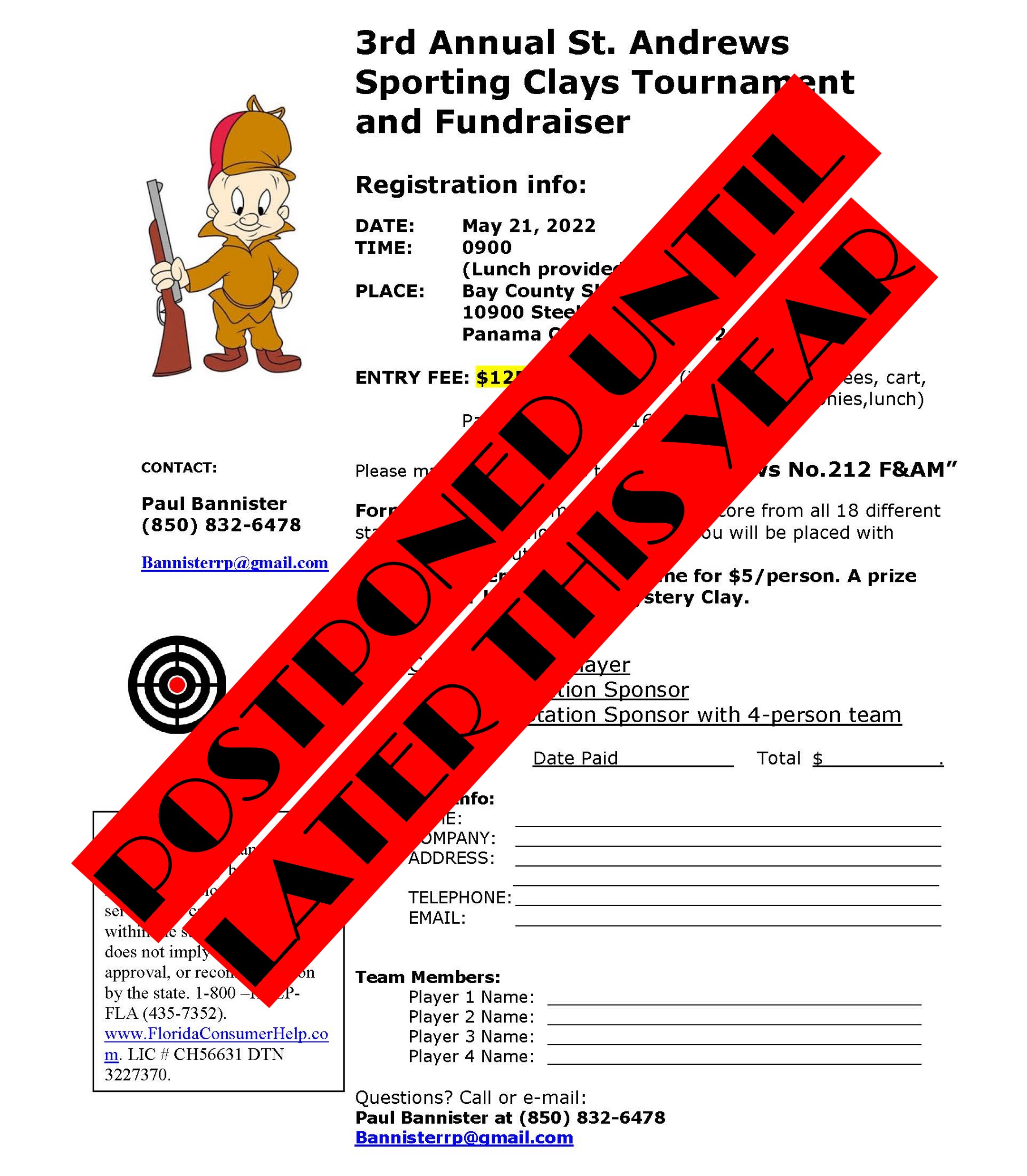 SICKNESS & DISTRESS


R∴W∴ Mitch Redd and his wife Marilyn are home. They are both recovering slowly. Please keep both of them in your prayers.


Janice Clark, wife of W∴ D.D. Clark will be going in next week to have a stimulator implanted permanently to help with her back. Remember Brothers, prayers work!!!







COMMUNICATIONS


Stated Communications are 1st and 3rd Thursdays @ 7:00PM (Next One is May 19th). Supper will be served at 6:00 PM. Brethren, the W∴M∴ requests your attendance, to support the Fraternity, Your Officers, Your Lodge, Your Brothers and Masonry in general.


The Lodge will now be holding practice every 2nd and 4th Thursday at 6:00 PM at the Lodge. Practices are to help prepare for upcoming Degrees or to help Brothers with ritual work. (Next Practice will be May 12th). Please joins us, we will be glad to help you with any portion of the work and help to improve your proficiency.


Zone School of Instruction - Open Books is held the 1st Wednesday of every month (Next One is July 6th) at the Panama City Scottish Rite Center, 1332 Fortune Ave. Panama City, FL 32401.




UPCOMING WORK



If anyone has a request or a notification for other Lodges in the area, or a request to place it on our "TRESTLEBOARD" please click on the Envelope below and we will be glad to post it.
---
This Trestleboard is for the membership of St Andrews Lodge No. 212, and is maintained by R∴W∴ Todd Bowden.
---